The Cross and Laminin
A brother in the Lord forwarded an e-mail to GodSaidManSaid concerning a sermon by Louis Giglio which addressed Laminin Ė a protein central to life Ė and its association with Jesus Christ. Surely the master of detail shows His hand.
| | | |
| --- | --- | --- |
| Audio Options: | | MP3 |
The Cross and Laminin
Article#: 1286
As the days of Christ's return approach, times will be very dark. Wicked men shall wax worse and worse. There will be wars and rumors of wars. The nations shall prepare to destroy Israel. There will be wickedness in high places, global violence, riots, evil imaginations, governments failing, financial structures collapsing, and anarchy. There will be a breakdown of the family unit, social and sexual perversions of all kinds, rampant alcohol and drug addiction, earthquakes, famines, tsunamis, and hurricanes. Jesus said in Matthew 24:8:
All these are the beginning of sorrows.
II Timothy 3:1-5:
1 This know also, that in the last days perilous times shall come.

2 For men shall be lovers of their own selves, covetous, boasters, proud, blasphemers, disobedient to parents, unthankful, unholy,

3 Without natural affection, trucebreakers, false accusers, incontinent, fierce, despisers of those that are good,

4 Traitors, heady, highminded, lovers of pleasures more than lovers of God;

5 Having a form of godliness, but denying the power thereof: from such turn away.
Do any of these things sound familiar?

As you should suspect, these very dark times for the world are good news for the children of God in two obvious ways:
(1.) Jesus Christ is on the way to receive the redeemed unto himself in the clouds, and so shall we ever be with the Lord (I Thessalonians 4).

(2.) In this time of great darkness, the righteous shall shine so much brighter and win many souls unto the Kingdom of God. God will support their labor with signs and wonders.
For the unredeemed — those who are not born-again — terrible things are hand-in-front-of- the-face close, even in motion now. The global alarms are sounding and lights are flashing red. Have you been born again? Do you know Jesus Christ as your Lord and Savior? Would you like to have shelter from the storm? Would you like to become a new creature today, with all your sin and shame expunged from your record? Today is your day of salvation. Move now while there is still time for you. Click onto "Further With Jesus" for childlike instructions and immediate entry into the Kingdom of God. NOW FOR TODAY'S SUBJECT.
GOD SAID, Colossians 1:17:
And he is before all things, and by him all things consist.
GOD SAID, Hebrews 1:2-3:
2 Hath in these last days spoken unto us by his Son, whom he hath appointed heir of all things, by whom also he made the worlds;

3 Who being the brightness of his glory, and the express image of his person, and upholding all things by the word of his power, when he had by himself purged our sins, sat down on the right hand of the Majesty on high;
GOD SAID, Colossians 1:19:
For it pleased the Father that in him should all fulness dwell;
MAN SAID: There is no creator or God. We are simply an accident that happens from time to time.

Now THE RECORD. It is so critical to know that God's Word, found in the Holy Bible, is true and righteous altogether. For if it is true (and it certainly is) all hinges upon it. This is GodSaidManSaid feature #550 that proves the full veracity of holy writ. These features are archived in text and streaming audio for the edification of the children of God and to be used as ammunition in the battle for the souls of men. Every Thursday eve, God willing, they grow by one. May the face of the Lord shine upon you with Light and Truth. Welcome to GodSaidManSaid.

Isaiah 46:9-10:
9 Remember the former things of old: for I am God, and there is none else; I am God, and there is none like me,

10 Declaring the end from the beginning, and from ancient times the things that are not yet done, saying, My counsel shall stand, and I will do all my pleasure:
God knows the end from the beginning, and thousands of years ago He revealed things in His Word that man, through the experience of his activities and studies, is just beginning to comprehend.

The phrase referring to Jesus in Revelation 13:8, "the Lamb slain from the foundation of the world," demonstrates that God does know the end from the beginning. The Bible teaches that the law of the Old Testament was a shadow of the coming Christ. In the garden of Eden, after Eve and Adam partook of the forbidden fruit, the shadow is displayed in the animals that had to die. Their skins were used to cover Adam and Eve's nakedness. The knowledge of their nakedness was a product of their sin. Jesus Christ, the Lamb of God (John 1:29), fulfills the shadow as his blood is shed to cover, to wash away, the sins of the sons of Adam and translate them via the new birth into sons and daughters of God.

God knows the end from the beginning and has recorded it thousands of years in advance. Today's science continues to discover this reality.

Scientists are grappling with the origin of the material substance of the universe. They've come to their own conclusion that all that you see exploded into existence out of basically nothing. Alan H. Guth wrote in volume 25 (September 1997) of Astronomy:
So, in the inflationary theory the universe evolves from essentially nothing at all, which is why I frequently refer to it as the ultimate free lunch. [End of quote]
In volume 151 (September 1996) of New Scientist, David Darling wrote this under the heading, "On Creating Something from Nothing:"
What is a big deal—the biggest deal of all—is how you get something out of nothing.

Don't let the cosmologists try to kid you on this one. They have not got a clue either—despite the fact that they are doing a pretty good job of convincing themselves and others that this is really not a problem. "In the beginning," they will say, "there was nothing—no time, space, matter or energy. Then there was a quantum fluctuation from which . . ." Whoa! Stop right there. You see what I mean? First there is nothing, then there is something. And the cosmologists try to bridge the two with a quantum flutter, a tremor of uncertainty that sparks it all off. Then they are away and before you know it, they have pulled a hundred billion galaxies out of their quantum hats.

You cannot fudge this by appealing to quantum mechanics. Either there is nothing to begin with, in which case there is not quantum vacuum, no pre-geometric dust, no time in which anything can happen, no physical laws that can effect a change from nothingness into somethingness; or there is something, in which case that needs explaining. [End of quote]
Carnal scientists are flummoxed over the original source of matter, and of course information. In Dr. Bruce Lipton's book, The Biology of Belief, he quotes Johns Hopkins physicist R.C. Henry, who was discussing the physical world and said, "The universe is immaterial — mental and spiritual. Live and enjoy."

The carnal scientists are flummoxed because their research all points to Jehovah — the God and His Bible that they deny. The Bible clearly states that all of creation was spoken into existence out of that which is invisible by His only begotten Son, Jesus Christ. Revelation 19:13 says, "...his name is called The Word of God." All visible things have been spoken into existence out of that which is invisible by the Word of God. We are literally made out of words. Proverbs 18:21 reads, "Death and life are in the power of the tongue..." The scientific community was agog with wonder when it discovered DNA, in which is found the building instructions for life, accomplishing this feat via the use of a four-letter alphabet that forms words, sentences, paragraphs, chapters, and books, and that onboard is the most sophisticated proofreading and editing system known to man. Scientists call DNA, "The Book of Life." About 3,000 years ago, Psalm 139 described DNA perfectly. Yes, it's true, we were formed out of the invisible by the Word of God. We are made out of words.

Jesus Christ is the center of our molecular structure. No discovery, scientific or otherwise, will ever controvert this truth.

God is such a marvelous master of detail. His forethought and handiwork is glorious to behold. Keep in mind as we continue that God created all things by Christ Jesus and that He knows the end from the beginning.

A brother in the Lord forwarded an e-mail to GodSaidManSaid concerning a sermon by Louis Giglio which addressed Laminin — a protein central to life — and its association with Jesus Christ. Surely the master of detail shows His hand. Concerning Laminin, Wikipedia reports the following:
Laminins are major proteins in the basal lamina (one of the layers of the basement membrane), a protein network foundation for most cells and organs. The laminins are an important and biologically active part of the basal lamina, influencing cell differentiation, migration, adhesion as well as phenotype and survival.

Laminins are trimeric proteins that contain an α-chain, a β-chain, and a γ-chain, found in five, four, and three genetic variants, respectively. The laminin molecules are named according to their chain composition. Thus, laminin-511 contains α5, β1, and γ1 chains. Fourteen other chain combinations have been identified in vivo. The trimeric proteins intersect to form a cross-like structure that can bind to other cell membrane and extracellular matrix molecules. The three shorter arms are particularly good at binding to other laminin molecules, which allows them to form sheets. The long arm is capable of binding to cells, which helps anchor organized tissue cells to the membrane.

The laminins are a family of glycoproteins that are an integral part of the structural scaffolding in almost every tissue of an organism. They are secreted and incorporated into cell-associated extracellular matrices. Laminin is vital for the maintenance and survival of tissues. Defective laminins can cause muscles to form improperly, leading to a form of muscular dystrophy, lethal skin blistering disease (junctional epidermolysis bullosa) and defects of the kidney filter (nephrotic syndrome).

Laminins form independent networks and are associated with type IV collagen networks via entactin, fibronectin, and perlecan. They also bind to cell membranes through integrin receptors and other plasma membrane molecules, such as the dystroglycan glycoprotein complex and Lutheran blood group glycoprotein. Through these interactions, laminins critically contribute to cell attachment and differentiation, cell shape and movement, maintenance of tissue phenotype, and promotion of tissue survival. Some of these biological functions of laminin have been associated with specific amino-acid sequences or fragments of laminin. For example, the peptide sequence [GTFALRGDNGDNGQ], which is located on the alpha-chain of laminin, promotes adhesion of endothelial cells. [End of quote]
To recap Laminin:
• Influences cell differentiation

• Influences cell migration

• Influences phenotype and survival

• Is the scaffolding in almost every tissue of an organism

• And Laminin is that which holds life together
The following is a picture of Laminin: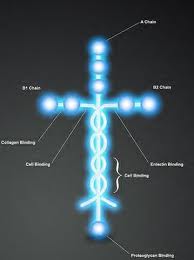 Coincidence do you think? Colossians 1:17:
And he is before all things, and by him all things consist.
Noah Webster defines consist: "to stand together; to be in a fixed or permanent state, as a body composed of parts in union or connection. Hence, ...to be supported and maintained." Surely God knows the end from the beginning. Jesus Christ is the center of our molecular structure.

A few beautiful verses about the cross of Christ follow:

Colossians 1:20:
And, having made peace through the blood of his cross, by him to reconcile all things unto himself; by him, I say, whether they be things in earth, or things in heaven.
Ephesians 2:13-16:
13 But now in Christ Jesus ye who sometimes were far off are made nigh by the blood of Christ.

14 For he is our peace, who hath made both one, and hath broken down the middle wall of partition between us;

15 Having abolished in his flesh the enmity, even the law of commandments contained in ordinances; for to make in himself of twain one new man, so making peace;

16 And that he might reconcile both unto God in one body by the cross, having slain the enmity thereby:
I Corinthians 1:18:
For the preaching of the cross is to them that perish foolishness; but unto us which are saved it is the power of God.
God's Word is true and righteous altogether. It is a place to build a life.

GOD SAID, Colossians 1:17:
And he is before all things, and by him all things consist.
GOD SAID, Hebrews 1:2-3:
2 Hath in these last days spoken unto us by his Son, whom he hath appointed heir of all things, by whom also he made the worlds;

3 Who being the brightness of his glory, and the express image of his person, and upholding all things by the word of his power, when he had by himself purged our sins, sat down on the right hand of the Majesty on high;
GOD SAID, Colossians 1:19:
For it pleased the Father that in him should all fulness dwell;
MAN SAID: There is no creator or God. We are simply an accident that happens from time to time.

Now you have THE RECORD.




References:

Authorized King James Version

Darling, D., "On Creating Something from Nothing," New Scientist, vol. 151 (September 14, 1996), p49

Guth, A., "Cooking Up a Cosmos," Astronomy, vol. 25 (September 1997), pp54-57

http://en.wikipedia.org/wiki/Laminin

Lipton, B.H., Ph.D., The Biology of Belief, Hay House, 2008

Morris, H.M., That Their Words May Be Used Against Them, Institute for Creation Research, 1997
Power Verse
Psalm 13:3 (KJV)
Consider and hear me, O Lord my God: lighten mine eyes, lest I sleep the sleep of death;